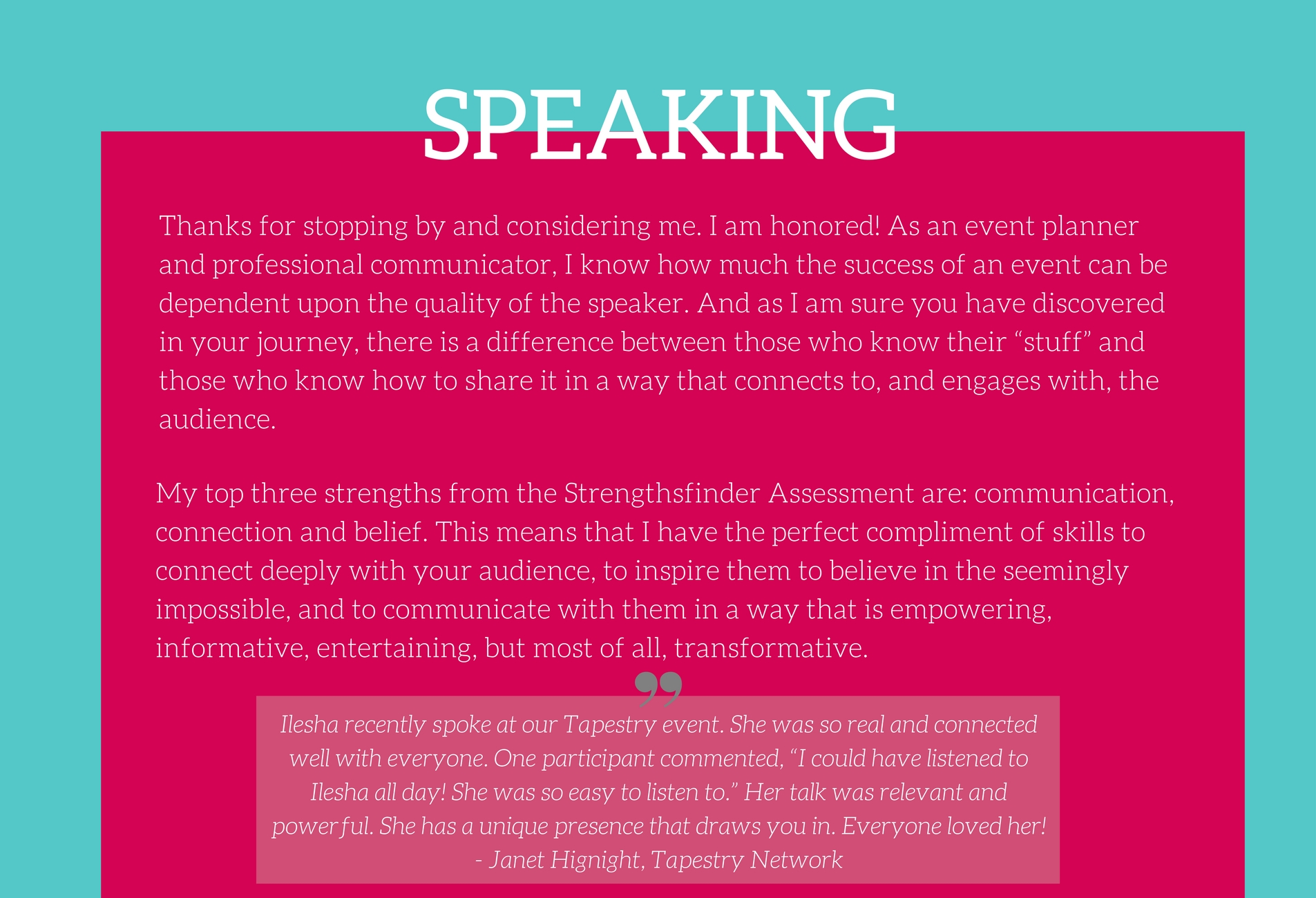 How I got started
About 10 years ago, I was the reluctant participant at one of my husband's music ministry outreach events. At the time of booking, the event planner asked my husband to share a brief message in order to encourage the youth in attendance. My darling husband, happily and quickly suggested me for the job instead! His reasoning was that his gifting was only music, but since I was a teacher with a lot of experience with young people, it would be better if I shared my story. After my initial shock (and a bit of a panic attack!), I realized that my husband saw something in me that I didn't yet see in myself – a gift for public speaking.
Since that heart-racing, knee-knocking, palm-sweating day, I have spoken at nearly 200 education workshops, women's empowerment events, youth and community outreaches, professional trainings, business seminars and faith-based conferences and retreats.
Please scroll on down to review my most popular talks and trainings. Most can be customized for keynotes, workshops, and multi-day events. And several are available for both faith-based and "secular" audiences.
My speaking + training
(It feels really awkward to refer to myself in third person, but this is the place where I'm supposed to give you my "professional" speaker bio. So bear with me!)
A highly sought after international speaker and consultant on women's leadership and diversity issues, Ilesha "CoCo" Graham impacts audiences around the globe with her humor, transparency, and heart-centered brand of speaking. She has used her gift of powerful and courageous storytelling to impact audience members at conferences, churches, colleges, corporations and community/professional associations alike. With her unique background in education and presentation, Ilesha has the rare skill of both inspiring and educating her audience – which is what ultimately leads to tranformation in thinking and behavior.
Ilesha is the CEO of CoCoSpeaks Empowerment, a personal and professional development company which focuses on empowering and equipping emerging women leaders through workshops, speaking and consulting. She is also the founder of the Women Speakers Academy where she teaches women in leadership how to expand their influence, impact and income through speaking. Ilesha has been featured on CBS, ABC, NBC, FOX40 News, Huffington Post, Yahoo News, TVOne, Mashable and multiple other media outlets.
"I have been fortunate to work alongside Ilesha (CoCo) Graham for many years now. Whenever I have the chance to hear her speak I am encouraged and motivated. She is passionate, thorough, and inspiring. She has an ability to connect with her audience and leave them feeling empowered." Ashley Boddorf
SIGNATURE PROGRAMS
Ilesha is a powerful, passionate speaker. Her ability to share her story and inspire and ignite her audience is remarkable. Cheryl Miles